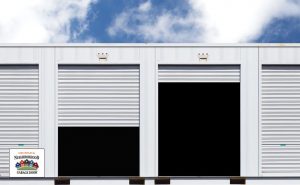 Commercial garage doors that are reliable and function well are a necessity for any business in Charlotte, NC. There are many elements that go into running a profitable business, and if one of those elements breaks down, it may mean a loss of valuable money and time will be lost. Commercial garage doors are one of these elements and most businesses do not understand how important they are until they stop working properly. This means having quality, reliable commercial garage doors is a necessity for a business's success.
Regular Maintenance Is Required For Commercial Garage Doors
Over time, with constant opening and closing, commercial garage doors experience a great deal of wear and tear. Lots of companies also use commercial garage doors on a daily basis to ship and receive an excessive amount of inventory. During this process, it is always possible that hand carts, crates, boxes, people, and also trucks may bang into a business's commercial garage doors. This is another important reason a company's garage doors should be able to stand up to the test of time. The commercial garage doors offered by Neighborhood Garage Door "The Original" are strong enough to offer many years of usage. In the case that anything does go wrong, we are always ready to help get things back on track.
How to choose the Right Commercial Garage Door
Functionality – Consider how your garage door will be used. For instance, do you have a warehouse that needs sturdy, fireproof garage doors or a car garage that needs rolling garage doors that are easier for vehicles that are coming in and out constantly.
Durability – Most commercial garage doors will undergo a lot of wear due to constant use. Because of this, you want to choose doors that will be able to sustain bumps and scratches, and last for many years.
Cost – Budget for the cost of purchasing, installing and maintaining your garage doors. Cutting cost in the short term can be costly in the long term.
Space needs – It's important to consider your business's space when choosing a commercial garage door. If space is limited, sectional garage doors are a good option.
Safety – Businesses concerned with fire safety can choose a commercial door with added fire protection. Some commercial garage doors offer an auto release feature that activates when temperatures reach a certain level or a fire alarm goes off.
How to Know When to Fix Your Commercial Garage Door
There are many reasons a garage door may need repair. It could be as simple as repairing a broken garage door opener. Also, garage doors can sustain dings and dents that impact their functionality. Our technicians are craftsmen trained in repairing these types of issues. In most cases a garage door is not working because of broken or faulty parts. Some of these include:
Bad rollers
Misaligned sensors
Damaged panels
Faulty springs
Worn gears
Broken cables
If you are experiencing any of these issues with your commercial garage doors or you believe new doors are the way to go, call us today. Our staff provides service calls, which are available any day from 7AM to 7PM. At Neighborhood Garage Door "The Original", we are here for our clients 7 days a week. You can count on us in case there is some emergency that requires our immediate attention. Our technicians will be dispatched quickly and will provide professional service you can depend on.
Charlotte NC Garage Doors For Commercial Applications
Businesses in the Charlotte, NC area are welcomed to take advantage of our services as we are ready to provide your company with new commercial garage doors. We are also ready to provide top-quality service on all commercial garage doors that are in need of maintenance, service or repair.
Overhead Garage Doors
Overhead garage doors are no longer a problem as we provide service to businesses located in the Charlotte, NC area. If you experience any problems with your overhead garage door, contact the team of professionals at Neighborhood Garage Door "The Original".