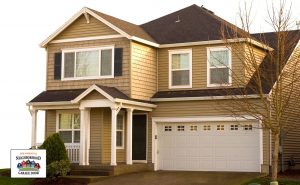 Residential garage door repair in Charlotte, NC is often required for a variety of reasons. Regardless of those reasons, the professionals at Neighborhood Garage Door "The Original" are available to help you.
Residential Garage Door Maintenance
There is nothing that can keep certain components of residential garage doors from wearing out over the course of time. Even the highest quality and most expensive residential garage doors will eventually need repair and maintenance. When that time arrives, it's time to contact Neighborhood Garage Door "The Original".
The standard for the majority of garage doors are approximately 10,000 uses. Frequent use during the winter months can force the operator motor to work overtime and it can also put a strain on the actual door. With heavy use, the cable can become worn and the torsion spring will have the capability of failing.
Repairing A Residential Garage Door
It's not uncommon for doors to fail at inopportune times as many have stopped working when people are in a rush to get somewhere. Those situations can be frustrating, but the pros at Neighborhood Garage Door "The Original" will diagnose the problem and inspect the entire system for other potential issues. This comprehensive approach is designed to help make your residential garage door last for as long as possible.
At Neighborhood Garage Door "The Original", it does not matter what time of the day or night your garage door fails. Our service is available 7 days a week. A service technician can be dispatched at any time as our service calls are one more added convenience. There is also no extra charge for service calls that extend beyond normal business hours as we are not looking to benefit off our customers' unfortunate situation. The personal attention provided by our family-owned business is one of the reasons that Neighborhood Garage Door "The Original" has been able provide the best residential garage door repair Charlotte, NC has to offer.
Contact Us For Residential Garage Door Services!