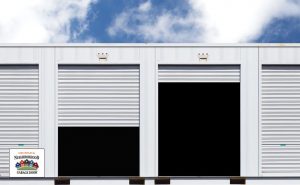 Businesses can call on Neighborhood Garage Door "The Original" as we are a family-owned company that continues to provide quality and affordable commercial garage door repair in Charlotte, NC.
In order for businesses to maintain success, a lot of moving parts need to come together. When any one of those parts breaks down, it can impact the overall business. Various types of business depend on commercial garage doors for their everyday operation. That's why Neighborhood Garage Door "The Original" is ready to respond with immediate repairs that help keep local businesses running smoothly.
All brands of commercial garage doors are bound to malfunction in some way. The ongoing use of those doors will eventually wear out one of its components. Unlike residential garage doors, the commercial grade of doors undergoes more stress and usage. And when one of those doors starts to fail, business owners and managers will be looking for an immediate fix. That is where Neighborhood Garage Door "The Original" steps in. We will not only fix the problem, but our technicians will also inspect the entire system for any other signs of trouble. Detecting any minor problems could prevent major problems in the future. It is our aim to always provide the most comprehensive service we can for our customers.
Calling on a local, family owned company provides a certain level of comfort and assurance when something breaks down. At Neighborhood Garage Door "The Original", we are here for our customers. Businesses located in the Charlotte, NC area can contact us at any time. Years of experience has enabled our team to identify problems immediately and provide the quickest fix for whatever kind of problem your garage door has encountered. However, we will never sacrifice any of our top quality workmanship which extends to both our commercial and residential garage door repair in Charlotte, NC.